Our company www.babyswimmer.be en www.babyswimmer.nl has been made to bring unique baby products in it's functionality,quality or style to the Belgian, Luxembourg and Dutch market. Our shop is continuously growing with new and new products so please, keep your eyes on it or follow us on facebook as babyswimmer.nl
Baby Swimmer has been labeled "joy for tiny tots, help for parents" and since its creation has been living up to this label. The Baby Swimmer for everyday bathing of babies and toddlers is the first and best product of its kind. The product has been rigorously tested to the strictest safety standards since the early stages of its development and has been approved by medical professionals. The product is loved by children and parents worldwide. With our new product Baby Swimmer we want to change the way we bathe our children at home. We want it to be a fun and enjoyable experience for both parent and child.
As the parents of a child ourselves, we first tried The Baby Swimmer on our son and it was a fantastic experience. It was such a fantastic experience in fact that we decided we should share this wonderful product with others too. He was just a few weeks old when we first tried The Baby Swimmer, and since then it become a part of the regular bath time routine.
Unfortunately our child suffered with reflux and because of this got very often upset, but warm bath with the Baby Swimmer calmed him down immediately and soon he was smiling and playing again. As we know, being in the water reminds young babies of the time when they were in their mother's womb. Therefore this is the perfect way to relax you and your baby in time for a perfect nights sleep.
Baby Swimmer offers your baby the chance to get all of the benefits of swimming at just a few weeks old. We offer two sizes: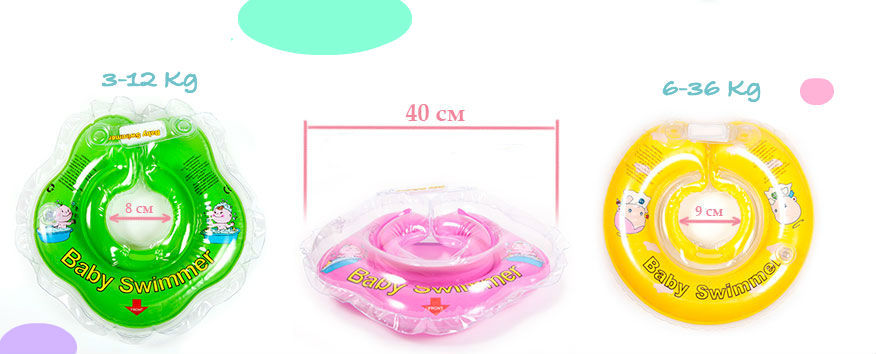 Small- Designed for children who weigh between 3-12kg (Up to about 24 months)
Large-Designed for children who weigh between 6-36kg (Up to about 36 months)
Baby swimmer provides unrivalled comfort, fun and relaxation for your baby while floating freely on the surface of the water. Your toddler will love the weightlessness feeling and the ability to move around freely in the water. With Baby Swimmer they can rotate from back to belly, grab their feet, kick their legs or even splash the water, all while their head is kept above the surface. Babies can float lazily or splash and kick as much as they like with plenty of freedom for movement.We hope you and your children will get to experience the endless joy of Baby Swimmer along with its added health benefits.